Why choose EasyCrypto as a partner?
The EC10 is South Africa's leading tracking investment strategy of the cryptocurrency asset class.
It offers secure exposure to top 10 global virtual assets by market capitalisation. Our experience and expertise in cryptographic index tracking allows us to dependably partner with clients to enhance portfolio diversification.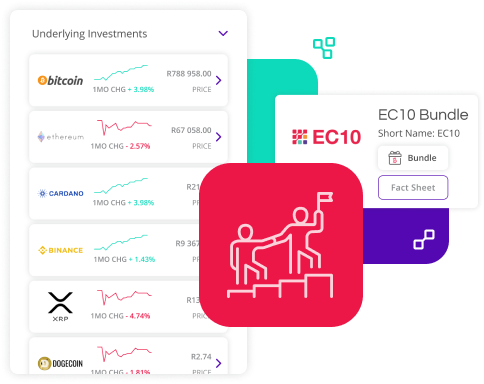 Crypto technology has grown exponentially in recent years, with adoption in South Africa gaining traction.
Multinational conglomerates such as Goldman Sachs, Morgan Stanley, MasterCard, PayPal, Tesla and many more have publicly announced their deliberate involvement in the crypto space. Investment in crypto technology has grown exponentially in recent years with subsequent institutional adoption in South Africa gaining traction. EasyCrypto provides a secure platform offering efficient exposure to the crypto assets.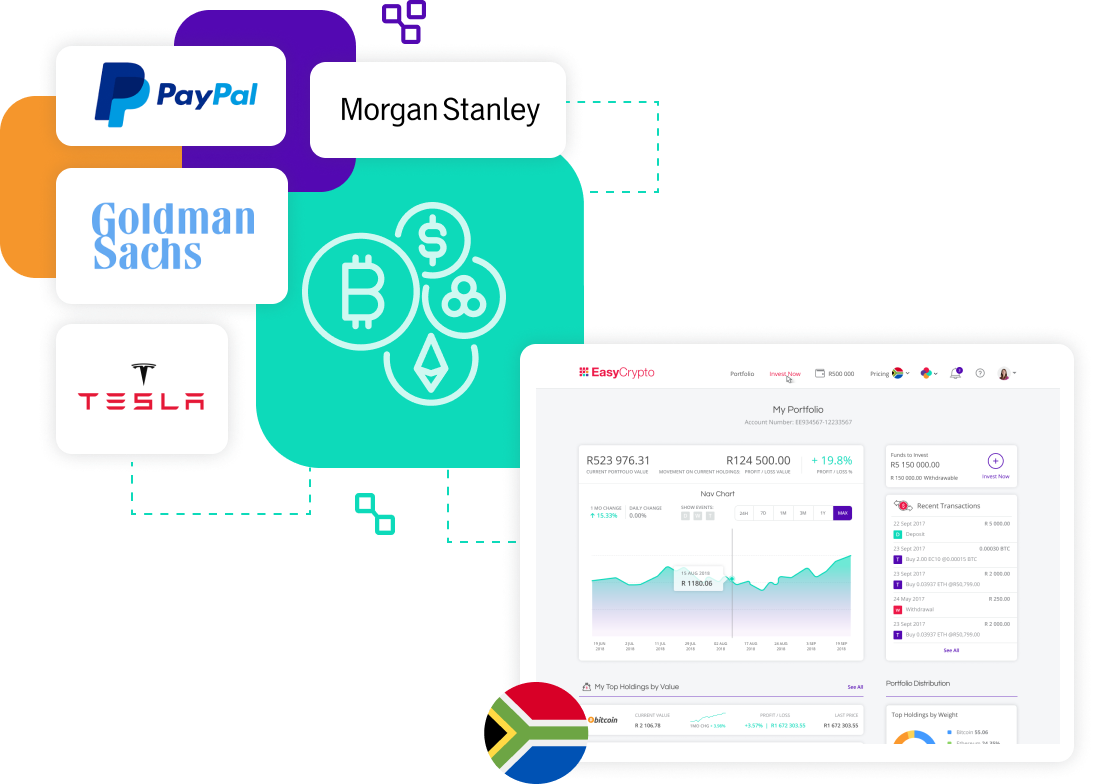 An established, trusted and accountable partner to help you navigate digital currency investing.
EasyCrypto is trusted by leading South African institutions to offer safe exposure to cryptocurrencies. The EC10 offers a transparent investment product that facilitates access to this new digital asset class, and provides a springboard to investing in the new digital currency-powered "internet of money".
About EasyCrypto
EasyCrypto is a FIC registered company, acting as an accountable institution filed for preliminary FSCA registration compliance in 2021. Through our partnership with the listed Purple Group ("Easy Equities"), EasyCrypto will act as a juristic representative once regulation of the sector becomes sanctioned.


In the spirit of sound governance we have implemented policies, procedures and best practices that align with those stipulated by South African regulatory authorities.
Our product facilities include:
Diversified index bundled exposure to global top 10 cryptocurrencies by market capitalisation.
Transparent performance disclosures and customized reporting for both you and your administrators.
Secured custody of digital assets and institutional grade offline storage solutions for institutional investors.
OTC Procurement: Any digital asset that makes up the EC10 Index (BTC & ETH - others coming soon).
Compliant vehicle for allocation to cryptocurrencies exclusive of holding physical coins in consonance with best practices and preliminary FSCA & ASISA compliance
Get in touch to diversify your balance sheet with crypto assets